Gezinsdag 3 oktober 2021
oktober 3 @ 10:00 am

-

6:30 pm
WELKOM OP ONZE GEZINSDAG

Op 3 oktober 2021 organiseren we hier op Ankerpunt een fantastische gezinsdag van de veerkracht. Het perfecte moment om samen met het gezin Ankerpunt te leren kennen of juist nog allerlei dingen te ontdekken die jullie nog niet wisten. Laat je samen met je gezin onderdompelen in alles wat Ankerpunt te bieden heeft. Dit helemaal gratis.
De gezinsdag zal in thema staan van het boek "Avonturen aan de Wondere Ommesprong" van Marleen Jans. Dit een boeiend 'Hey, ik ben oké' vertel- en doe-boek voor ouder én kind! Ook leerkrachten en zorgverleners kunnen met dit boek aan de slag. We kunnen niet wachten om dit boek aan jullie voor te stellen.
Om het boek aan te kopen, klik hier!
We maken er op 3 oktober een geweldige namiddag van gevuld met leuke, interactieve workshops en andere activiteiten voor ouder en kind. We nemen jullie mee op grote en kleine avonturen. Samen bosbaden, yoga/mindfulness doen, actief (spelletjes, beweging,..) of net creatief (knutselen, muziek, toneel, …) bezig zijn. Alles kan die dag! Aan al de activiteiten zullen jullie volledig gratis kunnen deelnemen.
Geen tijd om mee te doen aan één van de activiteiten, maar willen jullie toch graag even dag komen zeggen?  Zeer welkom!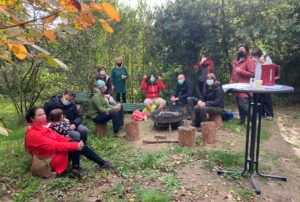 Kom genieten van een lekker drankje in onze gezellige Ankerpunt-tuin. Het ideale moment om even een praatje te slaan met iemand van het team of een andere Ankerpunt-sympathisant. Jullie kunnen ondertussen het gloednieuwe Ankerpunt-huis bewonderen.
Om van de gezinsdag een echte knaller te maken, hebben we twee speciale gastsprekers uitgenodigd.
Schepen van onderwijs Lalynn Wadera en Schepen van zorg en welzijn Bieke Verlinden.
Zet 3 oktober dus alvast in jouw agenda en kom, net als zoveel anderen, genieten samen met je gezin van een fantastische dag op Ankerpunt!
In het kader van de week van de veerkracht organiseert Ankerpunt vzw, jaarlijks een veerkrachtige gezinsdag. Het is dit jaar een heel speciale editie omdat we op deze dag ook ons boek willen voorstellen. Meer info 0497/746899
Inschrijven kan via een mailtje naar secretariaat@ankerpunt.be of via dit

.
Programma