Gratis webinar 'Hey, ik ben oké' lees- en doeboek voor iedereen.
juni 13 @ 7:00 pm

-

8:00 pm

Gratis
Maak kennis met het boek en de mogelijkheden voor ouders, grootouders en hun kinderen, leerkrachten, zorgverstrekkers, jeugdwerkers, bibliotheken en iedereen die met kinderen te maken heeft.
Aan de hand van een powerpoint krijg je meer uitleg over de mogelijkheden van het boek en de eventuele workshops en webinars die je als bibliotheek kan organiseren.
Bij interesse voor een workshop of webinar vraag je offerte aan: prijs hangt af van aantal deelnemers en aantal uren.
"Avonturen aan de Wondere Ommesprong" door Marleen Jans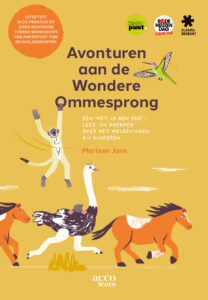 Een tweeling, een onzekere vogel, een blinde aardling, een stuiterbal, een bange durver, een ontdekkingsreiziger en een gewoontedier gaan samen op zoek naar het geheim van de Wondere Ommesprong. Op hun tocht beleven ze knotsgekke avonturen en worden hun vriendschappen regelmatig op de proef gesteld. Kunnen ze hun queeste voltooien?…
'Avonturen aan de Wondere Ommesprong' is een 'Hey, ik ben oké – lees- en doeboek'.
Het verhaal is geschreven voor kinderen, hun ouders, leerkrachten, zorgverleners en iedereen die op een creatieve en actieve manier aan de slag wil gaan met welbevinden en sociale vaardigheden. Het verhaal leidt ons langs een veelheid aan thema's waarmee je op maat van elk kind, individueel of in groep, een hoop opdrachtjes, spelletjes en denkoefeningen kan uitvoeren. Deze opdrachten zijn geïnspireerd o.a. op cognitieve gedragstherapie, ACT, creatieve – en speltherapie en zoveel meer.