Bij vele workshops kan je doorheen het jaar bij aansluiten en gebruik maken van een beurtenkaart
Voor de dagkampjes schrijf je je in voor het hele kampje


Springplank : zaterdag van 15u30 tot 17u30
Voor jongeren die zich soms onzeker voelen over de overgang naar het middelbaar gaan we aan de slag met volgende thema's :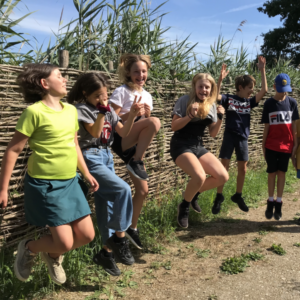 Contacten leggen en houden
Grenzen stellen en voor jezelf opkomen
Van jezelf weten dat je oké bent zoals je bent
Faalangst voorkomen en overkomen
Stress omzetten in positieve energie
Stevig in je schoenen staan
Meer lezen


Talent in de tent : zaterdag 08u30 - 10u30
Spelenderwijs, aan de hand van creatieve activiteiten, verhalen en groepsspelletjes,  ontdekken we :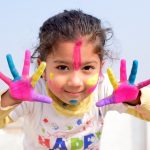 Welke talenten bestaan er?
Welke talenten heb ik?
Wat kan ik ermee doen?
Kan ik een talent leren?
Kan ik een hobby doen waarvan ik niet weet of ik er een talent voor heb?
Betekent talent 'de beste zijn' of …?
Meer lezen

Rots en water : zaterdag 11u00 - 12u00
Tijdens de training werken we rond vijf thema's: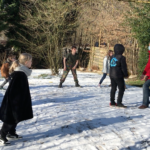 Zelfvertrouwen.
Zelfrespect.
Zelfverdediging.
Zelfbeheersing.
Weerbaarheid.

Hey, ik ben oké! : zaterdag 13u00 - 15u00
Je leert: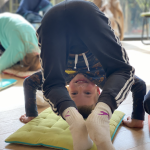 Zelfvertrouwen opbouwen.
Vrienden maken en houden.
Omgaan met stress.
Emoties uiten.
Omgaan met conflicten.
Opkomen voor jezelf.
Aandacht en concentratie
Ontspanningstechnieken.
…
Meer lezen

Kungfun : dinsdag 17u00 - 18u00
Je leert in groep om helemaal jezelf te zijn en dichter bij de weg te komen die jij wil volgen. Hierdoor zal je gelukkiger en sterker door het leven kunnen gaan.
Je leert :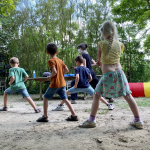 Je leraar en je vriendjes respectvol groeten.
De zon/maan groet en enkele Chinese woordjes.
Basis Kung Fu bewegingen + dierenbewegingen.
Meditatie.

Yomiqi : dinsdag 18u00 – 19u00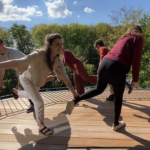 Je leert:
Aandacht en concentratie verbeteren.
Leven in het hier en nu.
Contacten leggen, verbinden en omgaan met anderen.
Grenzen aanvoelen en bewaken.
Ademhaling verbeteren.
Tot rust komen, relaxen en genieten.
Piekergedachten loslaten, ontstressen.
…